Here's something I didn't know: You can share you Amazon Prime benefits with another member of you family.
Alright, here's the benefits you can share (Copied directly from Amazon's website):
The following Prime benefits can be shared in an Amazon Household:
Fast & FREE Prime Shipping benefits
Access to Prime Video (streaming only)
Early access to Amazon Lightning Deals
Prime Photos online storage
Kindle Owners' Lending Library
20% off diaper and 15% off Baby Registry discounts
Fresh shipping benefits (for Prime Fresh members only)
You can invite any family member or "partner" which means you can invite your boyfriend or girlfriend. Now you can share the cost of membership. To me, just having the video streaming makes Prime worth it but tack on top of that the free two-day shipping and it makes it a no brainer.
Here's how you invite another member of your family to share your Amazon Prime:
Go to your account
Click on Your Prime Membership
Scroll to bottom and click "Share your Prime benefits"
Click on "Manage my household"
From there you can invite a family member to share your benefits.
I think Amazon Prime is awesome. With being able to share it with one of my family members makes it even more awesomer (if that's a word).
Here's the link to check out Prime:
Try Amazon Prime 30-Day Free Trial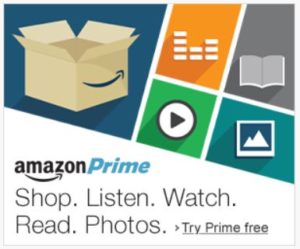 OK, full disclosure here, I'm an Amazon affiliate so if you click any of the links above I may benefit from it, but it's still a really cool thing.