The God Whistle
By Ralph Nelson Willett
Mary's marriage is in ruins. Her husband plans on divorcing her. Swimming in guilt, even her friends have abandoned her. An old blind man guides her through releasing her control and letting God "fix it." But he warns her; When she God fixes it, it may not look like the way she thought it would.
Expected release date: September 2017
Follow Ralph Nelson Willett on Amazon here, and Amazon will notify you when it is released.
---
The Rose Stone
By Ralph Nelson Willett
Now Available On Amazon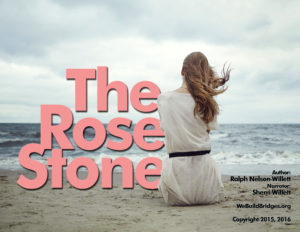 Can a small stone save a young woman from herself? As a young child Rosie asked her Grandfather to pray over a small stone she found on the beach. As an adult, she finds herself in ruin, lost and alone. Can God use a stone to rescue her?
The story of The Rose Stone demonstrates how God's love can work – even through a stone.
The Kindle version of "The Rose Stone" is expected to be released in January of 2017.   The audiobook is available now online for free and ready to listen to or download.  You can find it here:  The Rose Stone. Listen to it now while it's still free.
---
Authority
By Ralph Nelson Willett
You were never told you that you shouldn't mess around with spirits?
Teenagers experimenting with a spirit board open the door to unwanted entities. The result is a haunted desperation that can only be solved by one thing. Lives are permanently altered as once close friends are separated by a new reality.
Expected Release: January 2018
---
The Release – Escape From Torment
By Ralph Nelson Willett
Now Available On Amazon
Is there a generational curse that can follow you from your parents and from their parents before them? "The Release" follows Carrie as she struggles to escape a lifetime of abuse. Abuse from her father and abuse from boyfriends. What does it take to be released from abuse that has been passed down her family line at least since her grandfather?
(Author's Note: This one has been difficult to write because of the subject matter. You can read more about that on this blog posting.)
Expected to be released 2017